Info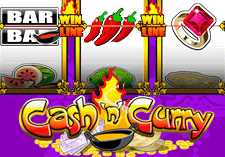 The feature trail on this UK pub-style online slot is reached by filling out the 'balti rack'. The sub features can be reached by spinning the hot balti-reel once the feature trail has started. Your progress is helped or hindered by the amount of 'coolant level' you have left in your pint glass. Run out of coolant and you'll lose your position, the feature will end and you'll return to the reels.
This UK pub-style online slot carries through the Curry-theme to the sub-features. They include:
The Bhaji Bonus
- collecting this feature will return you to the reel view and spin in a win.
Spice-O-Meter
- use your skill to hit a win.
Multi Balti
- pick-a-win from 3 different valued prizes. They are shown, hidden and then moved around, follow your chosen prize and hopefully you pick the highest!
Chicken Ticker
- a reel-based feature. The reels will start spinning and you must try and stop the reel in the best position.
Vind-a-Loot
- you are automatically run through a number of wins, which are all added to your win pot. This is a hot! feature. Other sub-features on this online slot game include; Rogan Dosh, Bombay Mix and the Belt Buster.